Right now, music festivals are as big every member of The Strokes' 2001 haircuts combined. On the face of it, that is a great thing (because who doesn't love a early 00s mop?), but it is arguably causing problems for new bands of today's music circuit. Right now, you can pay anything between £50 and £500, jump in the car, head to a relatively local festival and let your hair down. But who will you be letting your hair down to – and what will be their combined age?
The last time Glastonbury took a fallow year in 2014, the music industry nonchalantly shrugged and went to Isle of Wight Festival instead. Oh, how things change.
Four years later, the festival circuit has rocketed to such an extent that without the festival to end all festivals taking place this year, the music industry is tripping over itself to fill this summer's Glastonbury-shaped hole. If you take a stroll down to your local park between May and September this year, there's more of a chance that you'll be met by overpriced burgers, aging frontmen, loud guitars and warm lager than wobbly pensioners and Sunday league football.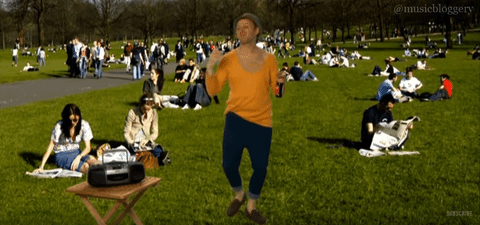 Of course, behind Glasto's camping, moshing and general mudslinging, there's some serious organisation going on. To bring in the punters, you obviously must get the bill right and organise music that festival goers want to hear.
The trouble is, 2018's average festival booker is currently having a recurring nightmare centred on a Winchester-based family spending an easy-going Sunday covering their 8-year-old's ears whilst Fat White Family vomit up their breakfast all over the stage that's sponsored by Holland and Barrett. Perhaps this is down to the idea that festivals are increasingly becoming family-orientated events with a higher average ages than a gig. There is still the option of going to Reading or T in the Park and ending up in an ambulance, but, by and large, the thousands upon thousands of British music festivals that exist today seem to believe they have an obligation to 'play it safe' when their massively broad, aged 8-80 audiences are considered. The British Summertime Festival held in Hyde Park, for example, plays host to six performers over the space of two weekends. This year, the average age of those performers is 59.
The logic here is that a big catchment audience means bands that supposedly appeal to the masses are needed. But how relevant is that criteria today? There's nothing wrong with booking James Bay or Stereophonics for a festival, but when they've seemingly been booked to play every other weekend for three months during every summer since 2010, you start to wonder when smaller bands will start to get the attention from the festival circuit that they desperately need.
The big festivals are guilty of this, too – Reading and Leeds booking Fall out Boy as headliners for the second time in three years alongside go-to stadium rockers Kings of Leon screams mediocrity. These bands, whose booking would have heralded huge acclaim in 2010, are starting to lose their pulling power. At the same time, they have not been able to be replaced by fresher, newer sounding acts by means of the over-exposure of the old guard at the top of festival posters for far too many years.
Festival-goers are nowhere near as fickle and stuffy as many of the big bookers seem to think so. People will obviously not want to go to music festivals headlined by someone who nobody has ever heard of, but there is an alternative to charging 6 quid for a pint and watching a disinterested crowd nod along to the Script's first album. There are plenty of artists that have proven this to be true – Skepta's triumphant solo Glastonbury 2016 performance essentially facilitating Boy Better Know's headline slot on the Other Stage the following year springs to mind, as does Florence and the Machine's brilliantly received 2015 headline set following the Foo Fighters injury-forced absence.
The murmur from the crowd was that Florence deserved that slot, and rightly so – it is difficult to see why she wasn't there in the first place. Foo Fighters are a fantastic live act, but allowing the-then 28 year old Londoner to assume headliner status proved that it is not a risk to give modern performers the top slot. Skepta too thoroughly deserves the headline spot at a major festival which is now becoming more and more overdue, and he and his peers' absence across the top row of major festivals this summer is disappointing.
It is up to festivals as the increasing monopolisers of live music in the UK to take a risk and give newer bands a chance to prove themselves higher up the bill. If they can do that, exciting new music (which is by no means in short supply) will gain maximum exposure and eventually topple the current 35-or-so strong status quo of pop-rockers. The future of festivals could be bright, but it is up to the organisers to listen to their audience and make it happen.