2007 was the perfect year for budding musicians to rise to the top. More importantly, it was the perfect time for a young, ambitious singer from a small town in Wales to create a global impact that would come to span over a decade.
Marina Diamandis, commonly known as Marina and the Diamonds, rose to prominence in an era where pop stars and artists were being churned out of Myspace like butter. As social media was growing at a rapid rate and was becoming more established, 2007 was the perfect year for budding musicians to rise to the top. More importantly, it was the perfect time for a young, ambitious singer from a small town in Wales to create a global impact that would come to span over a decade.
Diamandis launched her debut EP Mermaid vs. Sailor in 2007 on Myspace and there was instantly something about her music that record labels wanted a piece of. This charm and singularity led to offers from over 14 different labels and Diamandis eventually signed a contract with Neon Gold Records. She subsequently released her first single, 'Obsessions' in 2009, followed by her first LP, The Family Jewels, one year later.
Having listened to The Family Jewels at the tender age of 15, the adolescent arrogance that this album exudes was a perfect fit, especially as this was Diamandis' first album so it served a purpose to make a name for herself. The Family Jewels is the perfect bolshie opening album to tell the world exactly who Marina and the Diamonds is. Songs like 'Girls' which questions women for 'making money off [their] insecurity and doubt', 'I Am Not a Robot' and 'Oh No' become a shining portrait of Marina in her mid-twenties; confident, unafraid in her thoughts, and unbelievably quirky.
When I first listened to the album, I suddenly saw what Derek Davies of Neon Gold Records saw in Marina from that (cringe) Mermaid vs. Sailor Myspace EP (some kind soul has put it on YouTube if you really want to have some fun). I hadn't seen anyone else like it at the time – someone who was writing their own music, their own lyrics, unafraid to challenge the status quo of what was being said about women. I saw her as a 21st century feminist with a celestial voice to boot. Now I don't know about you, but when I was a teenage girl, that's exactly the kind of role model I both wanted and needed. But that wasn't Marina's aim. She had bigger dreams. She wanted to be a pop star, or better yet, an "indie artist with pop goals" .
This image of fame is exactly what embodies her second album, Electra Heart (2012). Initially a concept album (which I wasn't a fan of when it first came out), Electra Heart follows several different female archetypes. From the 'Homewrecker' to the 'Teen Idle', the concept itself was not cohesive and didn't make much sense, but some of the songs e.g. 'Starring Role' and 'Lies', tap into a genuine place of heartbreak that still resonates many years later. Electra Heart was a carefully thought out, crucial second step in Marina's career.
Diamandis made the conscious decision to work with a big name production house, Stargate, known for producing music for Britney, Beyoncé and Rihanna, among many others. This was Diamandis' chance to try something different. A way to see if she could be a traditional pop star by taking less creative control and letting other people navigate her musical style. As much as this album divided fans, it was a 'necessary evil', as Electra Heart gave Marina massive commercial success and put her on the map with singles like 'Primadonna' and 'How to be a Heartbreaker'. As a result of this collaborative effort, Electra Heart debuted at number 1 on the UK Albums Chart and was later certified gold for exceeding shipments of 100,000 units in the UK.
Electra Heart was also the album which gave her unique fanbase, especially in America. In an interview with the Irish Times, Diamandis commented that she was inspired by the 'Tumblr generation', and funnily enough this was exactly the audience she acquired upon the album's release. Having listened to Marina knowing 'exactly who she is and who she wants to be' on The Family Jewels, I find it hard to believe that this wasn't a calculated effort to obtain loyal fans. Even so, that was a pretty smart move because these are the fans that have carried her relevance through her next album.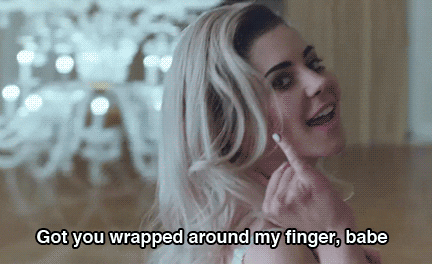 I was always eager to hear Marina's third release.The Family Jewels established her purpose as a musician, Electra Heart gave her the commercial success her career needed to reach the next level, so the third release would be just…..Marina. An album where she doesn't need to ask for fans or tell the world who she is as an artist, but an album to reflect an older, wiser Marina as she creeps into her early 30s. The result was FROOT (2015), a reflective album that follows human emotions through its peaks and troughs. Songs like 'Immortal' discuss being immortalised through memories in time, 'I'm a Ruin' discuss self-hate destroying relationships and 'Savages' explore the primal, destructive nature of the human race.
Marina's concepts as well as her overall vocal performance are stronger and more complex on FROOT, but when we detach ourselves from the themes and look at the bigger picture, what is most striking is that this is a reflective album not only for Diamandis but for us, the fans. We can listen to The Family Jewels and remember our teen angst, we can still enjoy Electra Heart in all its girly melodrama and appreciate it for the quintessential bubblegum pop record that it tries to be but more importantly, we can also enjoy FROOT as it is a reminder of how far we've all come.
After a four year long detox from music and dropping the 'Diamonds' from her title, Marina's latest venture Love + Fear, expected for release later this year, sets to be an expansion of FROOT but is more promising as it touches on Marina's ongoing battle with mental health. Diamandis has been very open with her recent battles with anxiety and discusses this on Marina Book, an online diary mainly geared towards the fans to let them know she's not dead. It's interesting that a woman in her mid-30s, having achieved fame and recognition still feels out of place in this world. It is this feeling that joins Marina and her fans and still keeps her grounded in humanity. However, in 10 years, Marina has grown to be at peace with her identity and self-effacing, a trait that is a far cry from the insecure Marina we first saw in 2009.
I am more excited for Love + Fear than any other Marina album because I'm so used to hearing her self assured lyrics on The Family Jewels, telling me she doesn't 'need love' or 'friends' – she's 'only after success'. Yet 10 years later, Marina discovers success is not what she wanted at all as she was even ready to leave the music industry entirely and she's not ashamed to admit it. The themes on this album are set to be more complex than ever, all set around nature as an overarching metaphor.
Marina Diamandis is a truly a musician who has grown in both her music and herself as an individual. In doing so it has inspired many of us to take the same path of growth as the fans have grown older with her. She is the example of how every musician should be – willing to change, willing to adapt according to the times but still remaining true to who they are as an artist. There is something about her music that is clearly written as an outlet for herself but it still remains so relatable to the everyman. We're there with Marina every step of the way, welcoming whatever obstacle may come in the future, idealistic as it may be.