WARNING: SPOILERS!
Suicide Squad was easily one of the most highly-anticipated films of 2016 and had many die-hard Batman fans run to watch the film on its opening weekend.
As a Batman fan myself, I just had to go and see the film on opening day (I was a bit too keen). I did enjoy the film overall but what oddly stood out to me was the music choices. I've watched all of the Avengers movies (multiple times), but this was the first time I was consciously paying attention to the music and appreciated what was being played.
What I thought was particularly clever about the soundtrack was that many songs bared some sort of relevance to the scene it accompanied; adding even more personality to the characters. There were a few songs in particular that stood out and emphasised that the soundtrack wasn't just thrown together.
In this review, I'll do my best to put any feelings I have towards the film aside and focus on the music in relation to its usage in the film.
'Sucker for Pain' by Lil Wayne, Imagine Dragons and Wiz Khalifa ft. Logic, Ty Dolla $ign and X Ambassadors
This is the main song of the film and probably the soundtrack for the Joker & Harley Quinn's relationship too. It does tend to creep me out because of its overriding eerie mood. Nonetheless, the chorus is pretty catchy and it's a good tune overall. Due to the soundtrack's strength however, it might be overlooked because while it is a decent song, it's nothing spectacular (this is probably why the song was only played in the credits).
'You Don't Own Me' by Leslie Gore/Grace ft G-Eazy
Many people don't know that Grace actually covered this song and it was originally sung by Leslie Gore. However, whilst the newer version is featured on the official soundtrack, the original version is used in the film which I appreciated, because it pays homage to the original artist. This track was played towards the beginning of the film when we saw Harley Quinn in the jail cell just as a bunch of armed officers walk into the scene while she was hanging on what appeared to be rope; her slender self dangling in intricate positions. I thought this song choice couldn't get any better because it's got an avant-garde tone to it, reminding me very much of a circus. Harley not only looks a bit like a beautiful (psychopathic) clown but was also in a cirque du soleil–esque position. The song just highlighted her craziness, added a slight comical touch to the scene and I thought it was simply brilliant.
'Black Skinhead' by Kanye West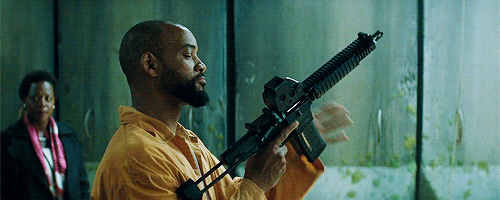 Now I know I speak for many others when I say, Will Smith killed Deadshot (as expected). He was ruthless, sharp and 'never missed a shot'. It was only fitting that this song accompanied Deadshot showing off his incredible shooting skills. Kanye's echoes of the word 'God' repeatedly just made Will Smith look that little bit more powerful. Not only that, but the beat added an edge to the character and definitely made him a force to be reckoned with.
'Without Me' by Eminem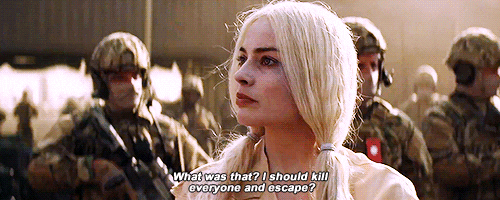 A badass film only gets more badass when an Eminem track is played. This track probably made the most and least sense being in the film because if you remember the music video to the track, Eminem becomes 'Superhero Rap Boy' and is seen wearing a costume (then runs down a road naked). This happened to be played when the squad were putting their costumes back on.
Coincidence? OF COURSE NOT!
However, if you haven't seen the music video or had previous knowledge about the artistic direction of the song, it probably made no sense whatsoever. But it's Eminem and therefore probably doesn't need to make sense to be awesome.
'Seven Nation Army' by The White Stripes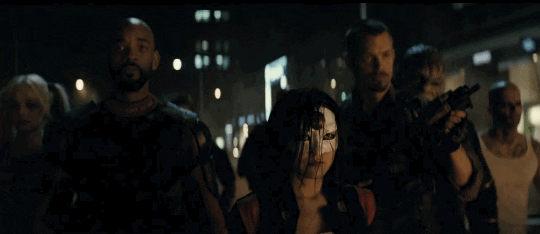 An iconic song for an iconic moment. The song played when the team were actually in formation (slayyy) and were well and truly strutting their stuff as a squad. Jack White's famous underlying guitar riff just made their dramatic walk even cooler than it already was. At the time there were 7 squad members (Harley Quinn, Deadshot, Captain Boomerang, El Diablo, Slipknot, Flagg and Killer Croc), making the song that more apt. I imagine Jack White would probably want to take back his lyrics: 'a seven nation army couldn't hold me back' because they could probably take him… pretty easily. Things took a slight turn when Katana joined the crew and made it an Eight Nation Army BUT Slipknot died and made it a Seven Nation Army again (Yay!).
'Bohemian Rhapsody' by Queen/ Panic at the Disco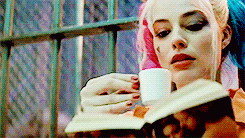 The best way to end any film whether good or bad is by playing a Queen tune, and Suicide Squad finished up with Queen's best track (and arguably one the best songs of all time). It accompanied the scene of all the squad being back in their respective cells in prison living the rest of their lives in isolation. Some describe the song as pretty schizophrenic because of the dramatic changes in style and I imagine at least half of the Suicide Squad could easily be schizophrenic which makes this a match made in Heaven (or probably Hell).
On the soundtrack, Panic at the Disco covered the iconic piece which pissed me off at first because this is probably one of the only songs that should never be covered or remade. However after listening to it, I thought it was a decent rendition and respected frontman Brendon Urie for not straying too far from the original style. In all honesty, Urie did add his own twang to it to show his personality as a vocalist and gave it a sinister tone which does fit in perfectly with this movie.
There were many other great songs in the film including 'House of the Rising Sun', 'Super Freak' and 'Sympathy for the Devil' as well as many more. I'm sad that some of the songs in the film aren't actually on the soundtrack but ah well, we can't have it all. It's clear that the producers put a lot of thought into forming the soundtrack and it's sure to do well in the charts and possibly pick up some awards in the next awards season.
Job well done Suicide Squad, at least they got something right.